Description
Safety Zone #GRFY-LG-1C Yellow Latex Flock Lined Glove, Large – 12pr (8534)
From Manufacturer's Website:
The Safety Zone ®
Yellow Flock Lined Latex Gloves

Product Features
---
MFG#: GRFY-(SIZE)-1C
YELLOW FLOCK LINED LATEX GLOVES
16 MIL THICKNESS
FISH SCALE GRIP
ROLLED CUFF
STANDARD LENGTH (12″)
SMALL – 2X LARGE
PACKED ONE PAIR PER BAG, 10 DZ/CS (120 PAIRS PER CASE)
Chemical & Flock Lined Glove Description
---
Chemical and flock lined gloves may be universally known as 'that dish-washing glove' but the uses (and varieties) extend beyond household cleaning. High volume food service (such as meat processing plants) benefit from an increased resistance to animal fats. For chemical protection, blended and Chemical gloves offer greater chemical resistance over standard latex. Also available is our premium chlorinated flock lined glove with a beaded cuff. For added chemical protection, use our heavy weight neoprene latex blended gloves. These gloves offer three different grip styles to choose from, raised diamond, recessed diamond and fish-scale. There are also three different kinds of cuffs, rolled, flat and pinked.
Federal Food, Drug, and
Cosmetic Act (FD&C Act)
---
The FD&C Act is a set of laws passed by Congress in 1938 giving authority to the U.S. Food and Drug Administration (FDA) to oversee the safety of food, drugs, and cosmetics. All Safety Zone glove components comply with the provisions of the FD&C Act, which allow repeated use in direct contact with food.
Recommended Usages
---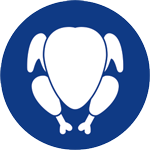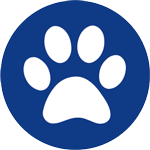 FDA Rule 110.10 & 177.1950
---
Rule 110.10 Chemical gloves sold by The Safety Zone meet the requirements for handling of human food in both the manufacturing and packaging phases of production.
For more information, please click here.
Rule 177.1950 Chemical gloves sold by The Safety Zone contain chloride-ethylene co-polymers, which may be safely used for repeated use when coming into contact with food.
For more information, please click here.